Late on Wednesday night, the suspense ended. We learned that MSNBC will renew Lawrence O'Donnell's contract, which was due to expire this Sunday. At least for now, the network's increasingly conservative tilt—new show hosts include Greta Van Susteren, Nicolle Wallace, Hugh Hewitt, and, on sister network NBC, Megyn Kelly—will not be bleeding into the primetime liberal line-up of Chris Hayes, Rachel Maddow, and O'Donnell. At the end of Wednesday's The Last Word, O'Donnell congratulated an intern starting a new job next week and added, "You know where I'll be next week? I will be sitting right here talking about the James Comey hearing and everything else that happens next week and everything that happens for the next couple of years." Later he confirmed by tweet that he won't get bumped from his 10 pm perch: "Yes I will be saying hi to Rachel @maddow at 10 pm for the foreseeable future."
Earlier that day, when the outcome of his negotiations with MSNBC over his contract was still in doubt, a small group of O'Donnell fans staged a rally at Rockefeller Center in his support. Fenced off on a slice of 49th St. across from NBC News, they carried signs like "Keep Lawrence, Dump Trump" and "america needs lawrence o'donnell calling out trump lies nightly at 10 pm." One sign implied that if his contract weren't re-upped, MSNBC, NBC, and their parent company Comcast would face boycotts.
The small rally (with just 10 people at its peak) and one a week earlier at the same spot were organized by Annie Salas, an entertainment-TV producer. The participants drew questions from passersby, some friendly kibitzing from NYC cops who joked that they should get more rowdy, and attention from a Canadian couple who seemed confused as to what the protest was all about. "We like Trump," the woman told Annie, who patiently tried to explain the pros of having a free press and the cons of having autocrats.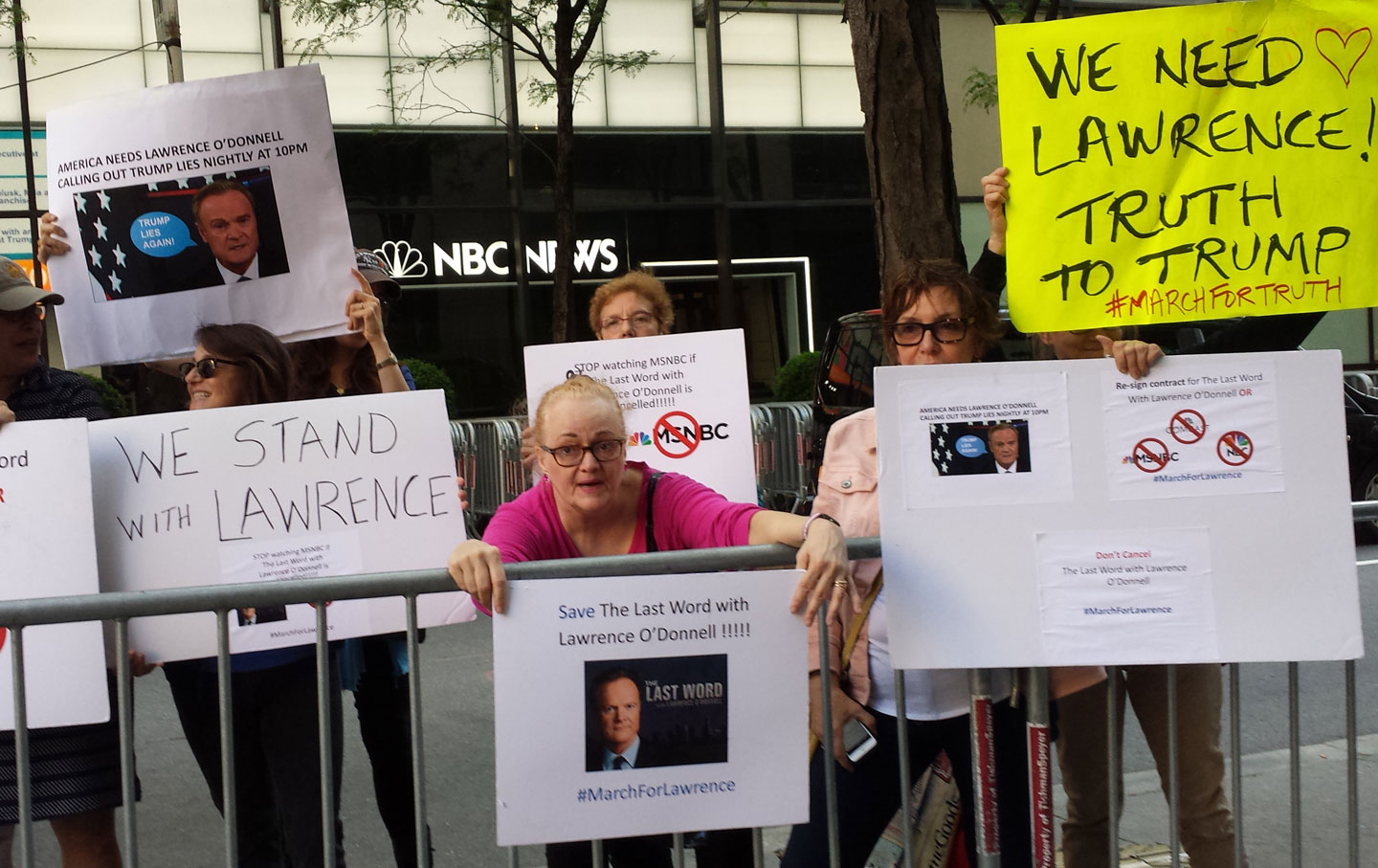 After the news of O'Donnell's contract renewal, Salas told me she didn't believe that Comcast "was swayed by a loyal fan base." But maybe MSNBC was: "It's been MSNBC and [NBC News and MSNBC chairman] Andrew Lack that were on the front line," she said. "If ad revenues started to diminish in that block, they'd have their names attached to it. We're living in a time when everything reflects what side you are on, and the decision you make will be the legacy you live with."
The rallies, together with a much larger social-media effort—including the hashtags #TheLastWord and #MarchforLawrence—did at least garner the attention of some NBC brass. Salas says a senior vice president of communications for NBC Universal sent her "a very upbeat e-mail," asking to speak with her by phone. (On the advice of a friend who works in PR—who said there was "nothing on your end to gain from it"—she didn't call back.)
Though O'Donnell will remain at MSNBC, it'd be a mistake to think that protesters were overreacting. MSNBC, long considered the liberal answer to Fox News, is doling out valuable TV time to any conservative Never Trumper or ex-Foxer who bats an eyelash at them. The former Fox anchor Van Susteren has been hosting an hour-long weekday show at 6 pm since September. Wallace, a former communications director for George W. Bush and a top adviser for the McCain/Palin ticket (which she famously didn't vote for) took over the 4 pm slot from Steve Kornaki just a few weeks ago. Right-wing radio host Hugh Hewitt—who never-Trumped for a nanosecond—will reportedly get his own show on Saturday mornings. And to top it off, climate-change denier George Will, recently booted from Fox News for opposing Trump, has signed on as a contributor to MSNBC and NBC, where former Fox News star Megyn Kelly will debut her Sunday night show this weekend. In September, Kelly will also take over the third hour of NBC's Today show.