Two of the pivotal field offices in the country making phone calls to voters in swing states aren't in Ohio or Colorado—they're in Idaho Falls and Rexburg, Idaho.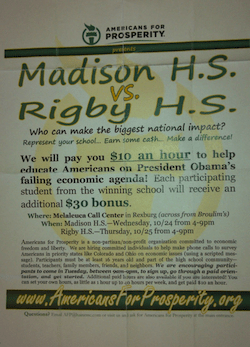 Frank VanderSloot, head of a controversial "multi-level marketing" corporation that sells dietary supplements and cleaning supplies, is donating two of his company's offices to Americans for Prosperity (AFP) to "create one of the largest call centers in the nation." According to local reports, AFP is recruiting teenagers and others in Idaho with a promise of $10/hour to make anti-Obama calls to voters in key states. The combined efforts of VanderSloot, an avowed conservative billionaire and financier of the Romney Super PAC, and AFP, the dark money group led by the Koch brothers, may be Romney's last hope in unseating President Obama.
The conventional wisdom, expressed by several media outlets in recent weeks, is that Obama's campaign has an incredible advantage because of its "ground game." The Obama team, the story goes, has more field offices than Romney, and will use these assets to better deploy get out the vote efforts through Election Day.
While it's true that Obama has considerably more field offices than his opponent, especially in swing states, the campaign-versus-campaign comparisons belie a shift in resources on the right. Hundreds of millions of dollars—most of it from right-wing fronts that do not disclose their donors—are being spent to bring pro-Romney voters to the polls. Thanks to a loose interpretation of our disclosure laws, these electioneering efforts have gone largely undetected by the Federal Election Commission, making them even more secretive.
In recent years, Republicans have invested incredible sums to develop groups focused on grassroots organizing. American Majority, the dozens of State Policy Network institutes, Americans for Prosperity, FreedomWorks and American Action Network are among the new or recently expanded conservative nonprofits that spend a significant amount of their budget just on organizing. AFP, which has a $140 million budget this year, up from $14 million in 2008, has about 200 paid staff going into the election.