If Democrats mainly rely on wooing moderate Republicans this fall, they will likely lose the opportunity to take back control of the House of Representatives. There simply aren't enough Republican swing voters out there for Democratic candidates to amass the number of votes necessary to prevail in November's midterm elections. And if Democratic institutions and organizations insist on prioritizing such a path, they will waste tens if not hundreds of millions of dollars and fail to fulfill their mission of stopping the wave of white supremacy, racism, and widespread hatred that is washing over this country.
Much of Democratic strategy, and a shockingly high amount of campaign spending in midterm elections, is based on a popular—but false—narrative about US voters. The narrative holds that the electorate consists of large numbers of "swing" voters whose allegiances shift back and forth depending on how they feel things are going in the country and who is addressing their concerns. David Axelrod's take on the 2010 midterm elections bought into this trope. In his book Believer, he asserted that by signing health-care reform into law in 2010, "[Obama's] standing with moderate, swing voters had taken a hit…. he had ignited a blazing grassroots opposition that would cost him his House majority."
But that's not how the House was lost in 2010. It wasn't that the huge hordes of swing voters recoiled against the legislative overreach of our nation's first black president. It was that too many of the hordes of voters who'd propelled a black man into the White House in 2008 sat out the 2010 elections. Conversely, those who hated Obama, and everything he stood for, came right back out and voted in large numbers in 2010, so when paired with the absence of many solid Democratic votes, the GOP was able to retake control of the House. I've shared this before, but this chart from my book, Brown Is the New White, can't be shown often enough: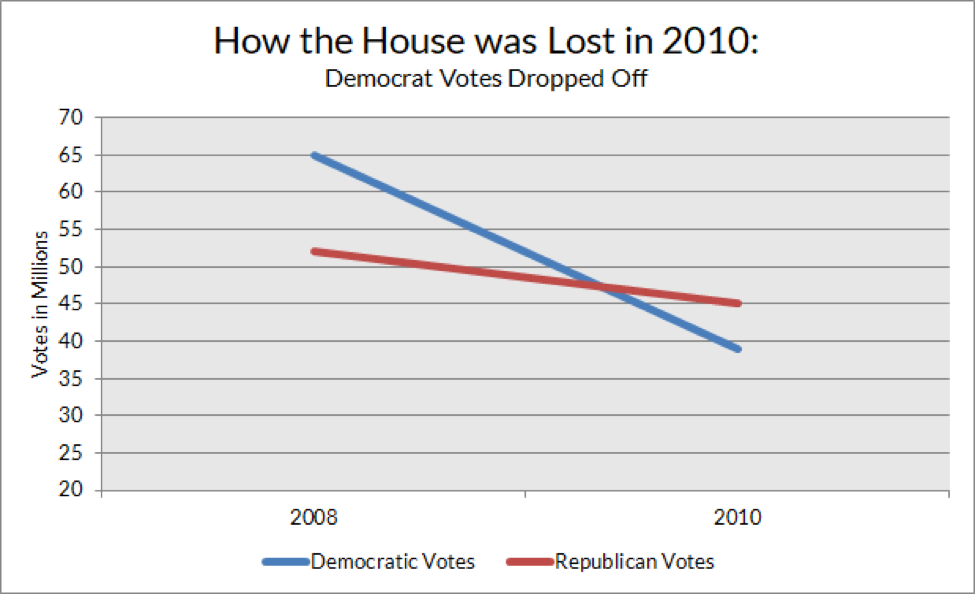 This year, Democrats need to pick up 23 seats in the House, and there is a lot of emphasis (including from me) on the 23 Republican-held districts where Hillary Clinton beat Trump. While we can take some solace from the fact that the majority of voters in those districts did not cast their ballots for Trump, they still bestowed their favor on the incumbent Republican representative in their districts, often by large margins.
This is where the critical strategy and spending implications come into play. Political investments—whether of money or time—should be informed by a sound, data-driven plan, and too much of the current spending is predicated on a superficial, almost wishful, understanding of elections.
Democratic leaders have gone to great lengths, for example, to encourage military veterans to run for Congress this year. Veterans can be great progressive leaders (my father and uncle served in the military, and I was born on a military base), but if the strategic objective is to appeal to swing voters drawn to Trump's posture and positions, the math doesn't add up. The painful truth is that there just aren't that many swing voters.