For most who covered it, the CIA Leak Case, also known as Plamegate, ended on a sour note with top Bush White House officials going free and Scooter Libby getting released thanks to the president. Even Judy Miller, after her jail stint, survived to twist the facts again, as a regular Fox News contributor. In his new memoir, George W. Bush paints a picture of Dick Cheney bullying him right up to end of their term for a full pardon.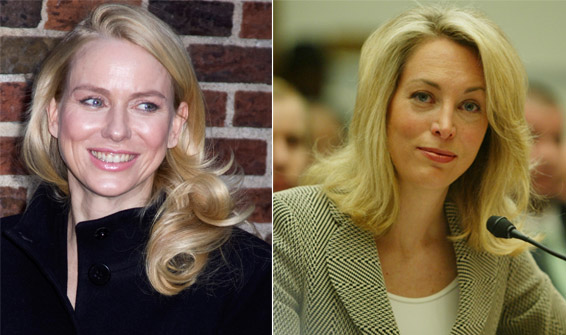 Now we get a replay, with the first full-length Hollywood film, the much-awaited (by some of us) Fair Game, starring Sean Penn and Naomi Watts as Joe and Valerie Wilson. Based on Plame's memoir of the same title, it was selected for Cannes last spring—the only American film in competition—and picked up by Summit Entertainment, which bought us Hurt Locker. But given the recent showing of Green Zone and other serious war-related films, it might still be box office poison.
Reviews from the festival circuit were mixed, but it gained a positive assessment in The New Yorker this week and The New York Times just now. Owen Gleiberman of Entertainment Weekly writes: "Fair Game gets you riled up all over again at a deeply unpatriotic abuse of power."
For what it's worth, it has an 81 percent positive score at Rotten Tomatoes so far. When I interviewed Plame related to the film Countdown to Zero a few months ago she had nothing but praised for the handling of the story and Naomi Watts's performance. They had become close friends and often photographed hand in hand at various movie premieres.
Director: Doug Liman, who has helmed everything from Swingers to Bourne films, also has a tantalizing connection, being the son of former Iran/Contra hearings chief counsel Arthur Liman. The writers are brothers Jez and John Butterworth. Liman's latest statement on the "politics" of the film and the "hornet's nest" is here, along with his earlier posts.
The film opens with Plame still an active agent and flying to Iraq to help some people in trouble. Actors play Ari Fleischer and Scooter Libby and "Cheney's secretary," but most familiar characters appear under new names. Judy Miller has already appeared in fictionalized form in Rod Lurie's Nothing But the Truth (played by Kate Beckinsale, with Vera Farmiga in the "Plame" role) and Green Zone (Amy Ryan).
Richard Roeper in his review goes this far: "Nearly the equal of All the President's Men as a riveting procedural, even though we know the outcome." Roger Ebert writes this week: "What amazes me is that 'Fair Game' doesn't play the game of using fictional names. They're all right there, including Cheney personally ordering the intelligence to be falsified."
The first word that leaked out came from Liman himself, as his popular blog at 30 Ninjas. In multiple posts, from last fall to this past month, he has stressed that he has stuck to the "facts" and that this is not an "art" film.
"As much as it's obvious to me what the White House did," Liman wrote, "we don't show it in Fair Game if we don't have facts to support it. I think Oliver Stone takes a different tack, in which, if he believes something to be true, even if he doesn't have the facts to support it, he'll go ahead and put it in his movie as though it's fact. I know in my heart that Dick Cheney orchestrated this whole thing, but I don't know that for a fact, so I'm not going to say that in the film. I'm going to make this a strength of the movie. In Fair Game, when they take on the White House, it's scarier because you don't really know what's going on inside. Just as Spielberg lucked out in Jaws because his shark didn't work and he discovered that the less you saw it the scarier it was, we feel that the less you see of the workings of Cheney and Bush, the scarier they will be."
Last May Liman was interviewed by Movieline:
Q. There was Nothing But the Truth, which was kind of mishandled. Then there was Green Zone, which audiences were very cool toward. Where will Fair Game fall in this political intrigue/spy thriller spectrum?

A. I think it's in the spectrum of "It's a really great movie." And a lot of other movies that have been about the war or dealt with the war have not been great movies. In fact, they've been motivated more by politics than by story, and that's been a turn-off to audiences. This is sort of the first political movie that's been made where I feel like the commitment was there from the first moment to story and character, and not to politics.
Trailer: