This article originally appeared at The Huffington Post and is reposted with the permission of the author.
With comprehensive immigration reform afoot in Congress, and measures to grant undocumented immigrant students in-state tuition status spreading across the country, a galvanized movement in Georgia is ramping up its effort to end the state's extraordinary ban for undocumented immigrant students at the top five state colleges.
The nation is watching: How much longer will Georgia's Board of Regents uphold a blatantly segregationist state law that has made the Peach State a national disgrace Consider this: Even Arizona, ground zero in the controversial "papers please" state immigration law, allows undocumented students to attend college—albeit with out-of-state tuition.
On March 6th, a large coalition of undocumented Georgia youth, students and a broad array of civil rights groups and supporters will host a march on the University of Georgia campus in Athens, under the banner that "Education is a Human Right," and remind the state of Regents Vice Chairman Felton Jenkins common sense declaration against the ban two years ago. "They worked hard and earned their spot. They could help make the state a better place."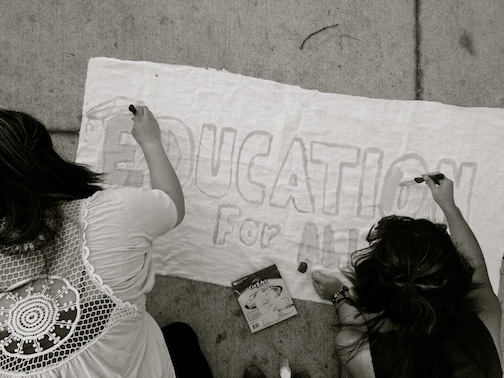 Photo courtesy of Project U.
"We're rallying for justice, for education, to not to be discriminated against because of our immigration status," Miriam, a 21-year-old undocumented Georgia student noted. "Everyone deserves an education and the right to better themselves, to contribute to our state economy and to the nation. We're not taking anyone's spot; we earned our admission and that should be honored and not be conditional on someone's status. To better the United States, we need to educate the youth and barring higher education is not the solution."
"All my academic life from K-12," added Aldo, a 17-year-old Georgia student, "I was told by the Georgia educational system that if I tried very hard in school, I would someday go to my local college. That gave me hope to overcome all the odds placed in front of me. That was the reason I got up every time I fell in all my academic attempts. But now that I am in my final year of high school I can see that I've been told nothing but lies and all the hard work I've done has been in vain."