Media coverage of the massive new WikiLeaks release began about 1:00 PM ET Sunday as an embargo ended. We'll be following this important story and controversy from now until the end of the night, and will add the latest at the top, with an ET stamp. My email: epic1934@aol.com. UPDATE I am live-blogging the WikiLeaks on Monday, or Day 2, here.
12:05 Note completely different tone and angle of The Guardian's look at U.S. diplomatic "spying" around world and at UN, and the NYT's revised, gentle version. Pretty amazing.
11:45 Just noticed that original lead NYT story online earlier today said documents showed that U.S. and South Korea had been "gaming" the collapse of North Korea. Not reads "thinking about."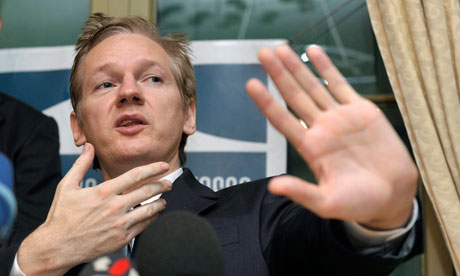 11:00 David Frum tweets: "If Julian Assange's goal is to protect Iran, as seems the case, I don't think he's done his cause much good." Well, certainly the NYT, and some others, focused a lot on the Iran-bashing aspect of the release, and allegedly getting missiles from North Korea.
10:40 Unless something changes, I will be on Democracy Now! tomorrow morning talking about all, or at least some, of this.
10:25 Interesting Q & A interview from Australia today with NYT's Scott Shane on paper's handling of docs. Shane points out: "Perhaps if we had had more information on these secret internal deliberations of governments prior to the invasion of Iraq in 2003, we would have had a better understanding of the quality of the evidence that Saddam Hussein had weapons of mass destruction. Secrecy is not always in the interests of governments or people."
10:15 Mike Calderone at Yahoo reported earlier today that NYT mysteriously said it did NOT get its WIkiLeaks docs from…WikiLeaks. So–from where? Now he reports that a top Guardian editor says his paper gave them to the Times….