As I've done for the previous weeks, I will be updating news & views on all things WikiLeaks all day. All times added at top are ET. For more follow me at Twitter. Read about my latest book here.
UPDATE Go to the Tuesday edition of this here.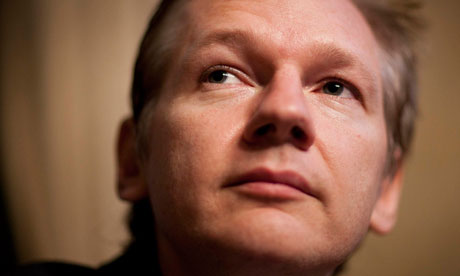 11:10 Another interesting Assange Q & A, this time with paper in India. Among other things, he stresses that he is publisher and editor, not a crusader (so he gets those rights); he doesn't regret a single document release; and that there's plenty of bad stuff in the cables about Israel but you'd never know it from the NYT, which limits its criticism of Israel. Closes with this: "Do you expect your life to return to normal anytime soon? Oh, I do hope not. What do you mean? We only live once. So, it is good to do something that is important and productive"
10:20 New from Sorkin in NYT: Wikileaks' promised dump of docs on major bank has banks nervous –but also regulators. "Inside the Securities and Exchange Commission, the organization is bracing for a public outcry, according to people who have recently spoken with some high-ranking officials about the prospect of a WikiLeaks release of bank documents…..Indeed, legal experts say that if evidence emerged of shady dealings, the biggest problem regulators may face would be explaining to the public why they had not brought charges against a bank."
9:30 In another interview, with El Pais, Assange reveals that he lost a tooth while in prison, when he bit into a piece of metal on his plate. He claims that it was soon removed from the cell, probably to destroy evidence that such a thing happened, and jokes, "It will soon be for sale on eBay."
9:25 More the TImes of London interview with Assange, behind pay wall but quoted from here. With some irony, he hits the leak of details form his sex case to The Guardian, saying that the paper selectively picked some parts and ignored others. And as for U.S. prosecution: "Mr. Assange said that he believed that the US situation would 'turn around absolutely' as a groundswell of favourable opinion grew in America. 'The people in power are organised and were able to respond quickly,' he said. 'But numerically they are not that strong and our support in the general population is tremendous.'"