The pundits were certain: Doug Jones was not going to become a senator from Alabama if he kept talking about abortion. It didn't matter that his opponent was credibly accused of being a pedophile, because voters just couldn't pull the lever for a pro-choice candidate. At Politico, for example, Michael Wear wrote that Jones's supposedly "extreme" position on abortion would turn away evangelical voters and that he was "going to have to tone down his rhetoric."
Jones won because many of our conventional narratives about abortion are flawed. One of the most persistent myths in politics is that Democrats should trade away reproductive rights in order to win over the largely mythical moderate voter. While Americans' views on abortion are are complex and multi-faceted, in the final analysis abortion choice is quite popular across the nation.
For proof, we can start with the American National Elections Studies 2016 survey, which offered respondents a range of options:
By law, abortion should never be permitted.
The law should permit abortion only in case of rape, incest, or when the woman's life is in danger.
The law should permit abortion for reasons other than rape, incest, or danger to the woman's life, but only after the need for the abortion has been clearly established.
By law, a woman should always be able to obtain an abortion as a matter of personal choice.
The chart below shows the distribution of support by party for each option. A full abortion ban is incredibly unpopular: Only 14 percent of respondents support it. Only 27 percent of respondents support abortion only in the case of rape, incest, or when a woman's life is in danger, and combined, together those options have support from only 41 percent of the general public. (Notably, only 40 percent of much-sought-after independent voters support those positions.) Another 14 percent say abortion should be allowed for other, clearly established reasons, and 45 percent take the most liberal option, in which abortion should always be available as a matter of choice—putting 59 percent of respondents in the broad pro-choice camp.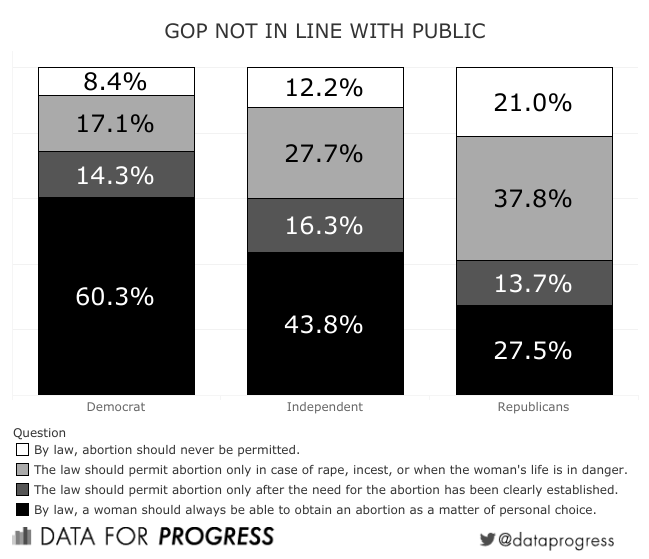 The 2016 Cooperative Congressional Election Studies survey also asked respondents a series of questions about abortion. One option was, "Always allow a woman to obtain an abortion as a matter of choice," which garnered support from 58 percent of the public, while the full abortion-ban option was endorsed by only 16 percent of respondents.
In both surveys, we see that the pro-choice option garners around 61 percent of the general public, despite somewhat different wording. That fits with polling from Pew, which shows that 57 percent of Americans say abortion should be legal in all or most cases. It's fair to say a durable majority of Americans are in a broad pro-choice camp, though the exact extent varies by question. It's also clear that very, very few Americans support a full abortion ban, which is the preferred policy of the Republican Party.