When profit motives "are considered more important than people," Dr. Martin Luther King Jr. once declared, it's time for the nation to "undergo a radical revolution of values."
To bring about that revolution, King and other leaders announced plans in December 1967 for a Poor People's Campaign that would mobilize disadvantaged people across racial and geographic lines. Four months later, an assassin's bullet prevented the campaign from reaching its full potential.
Today, 50 years later, we have a chance for a do-over. And do we ever need it.
At a press event today in Washington, DC, two prominent faith leaders—the Rev. Liz Theoharis and the Rev. Dr. William J. Barber II—announced plans for a new multi-issue, multiracial Poor People's Campaign to recapture the revolutionary spirit of 1968. As the campaign's co-chairs, they've been traveling the country for months, holding mass meetings and strategy sessions in 15 cities to lay the groundwork for mobilizations in the spring of 2018.
For those who may doubt the need for such a campaign, a new Institute for Policy Studies report provides more than ample evidence. By many measures, what King called the "evils of racism, economic exploitation, and militarism" are worse today than they were five decades ago. Toss in climate change and other environmental threats, and the picture is even more grim.
Here are just 10 of the numerical lowlights of the past 50 years:
1. Since 1968, the number of Americans below the official poverty line has increased by 60 percent to 40.6 million. While poverty rates are highest among African Americans and Latinos, white people make up the largest number of the country's poor (17.3 million).
2. The top 1 percent's share of national income has nearly doubled since 1968 while the official poverty rate for all US families has merely inched up and down. A key driver of this growing economic divide is the steep drop in unionization, from 24.9 percent of workers in 1968 to 10.7 percent in 2016. Income concentration at the top has siphoned resources from those at the bottom and distorted our democracy.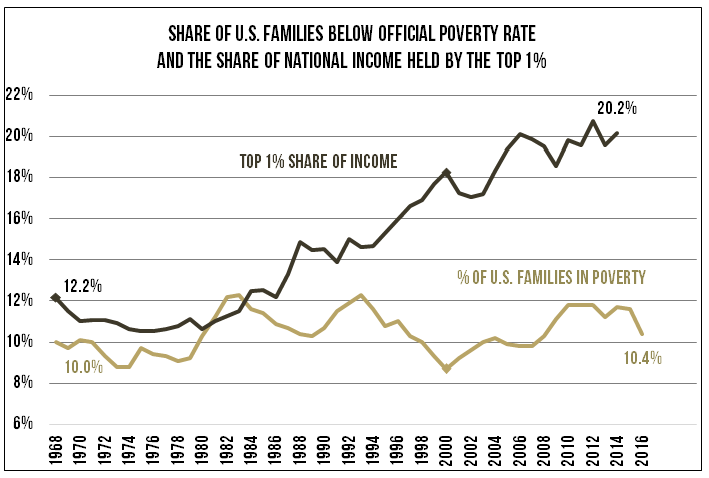 3. After some gains under President Johnson's "War on Poverty," the social safety net has taken a beating, with particularly devastating impacts on single mothers and children. In the richest country in the world, 30.6 million children (43 percent) live at or below 200 percent of the poverty line, considered the minimum for meeting basic family needs. Female-headed families are 5.4 times more likely to be living in poverty than families headed by married couples.