A new daily blog, updated often, covering news and controversy across a wide range of races and issues. As author of three books about influential campaigns (Upton Sinclair 1934 [1], Nixon-Douglas 1950 [2], Obama 2008 [3]), I also bring historical perspective to this. You can bookmark the daily blog by going here [4].
11:25 YOUR 'DAILY SHOW' RE-CAP For folks now shut out, here's a rundown. Opens again with a financial scandal, this time HSBC, "Helping People Who Want to Kill You, Since 1991." Then on to "Smear and Loathing"--former Rep. Anthony Weiner and wife, and Michele Bachman attacking wife as pro-Muslim Brotherhood. Turns out Michele, and her husband, may have his own Arab link (watch this via here [5])....Then Ann Romney saying we don't need to know about their finances, so Jon with Part II of alleged excerpts from the Romney tax returns he says they've obtained. Has he stashed money offshore on the island from "Lost"? ... Interview with columnist E.J. Dionne on his new book on "divided" America, as conservatives have given up on government and a "communtarian" impulse.
9:00 SHOW ME YOUR I.D. Andy Borowitz: "When Tea Partyers say, 'I want my country back,' ask if they can identify it on a map"… Twenty-three consumer brands [6] that are bankrolling right-wing attack ads.
8:45 MITT, MICHELE & McCARTHY With all the talk of Michele Bachmann & "McCarthyism" today, you might check out the real thing in new edition of my Tricky Dick and the Pink Lady [7] book.
7:55 Ms. KNOPE GOES TO WASHINGTON Our favorite local candidate/public offiical of all, Leslie Knope of Pawnee, Indiana, paid a surprise visit to the White House yesterday and today—shooting the premiere episode for the upcoming season of NBC's Parks and Recreation. Here's a full report [8] on Amy Poehler, Adam Scott, Aubry Plaza and the gang shooting in DC. "According to TV Guide [9], Senators John McCain, Barbara Boxer and Olympia Snowe will make cameos in the episode. President Obama revealed [10] at a March fundraiser that his oldest daughter, Malia, is a 'big fan' of the show."
5:50 WEST SETTING IN SUNSHINE STATE? NYT just posted big piece [11] on lunatic, Red-baiting Representative Allen West of Florida, pointing out that while he has become a right-wing darling he is running in a new "swing" district and so faces problems. "Mr. West is likely to face Patrick Murphy, 30, a Democrat and political neophyte who is shaping up to be a potent force. Democrats are banking that in a presidential election year, Mr. West will fail to sway enough independent-minded voters to win in November. They view the newly created 18th Congressional District on the Treasure Coast as one of six possible Democratic gains in Florida. Impressed with Mr. Murphy's fund-raising—he is one of the top fund-raisers among Democratic challengers in the country—the Democratic Congressional Campaign Committee has put its financial and organizational strength behind him."
5:30 CLIMATE CHANGE HEATING UP AS ISSUE? Any chance anyone will actually care in this year's campaigns? Everyone from Mark Bittman (in NYT) to Bill McKibben (in Rolling Stone) with important pieces today. And MoveOn promoting this amazing "Save the Arctic" video featuring Radiohead, Jude Law—and a homeless polar bear wandering around London.
4:35 YOU TUBE CAVES ON 'AL GREEN' APPEAL We noted earlier this week that YouTube had quickly removed a Romney attack ad that featured Obama's splendid snippet from Al Green's "Let's Stay Together." The music rights group BMG had protested. Behind the scenes the Romney camp appealed to YouTube and today won and Barack/Al is back. They had earlier posted the ad at Vimeo just in case. Here it is again:
4:20 MOVEON ENDORSES The grassroots group announces its picks for a few key Senate contests—Tammy Baldwin in Wisconsin, Sherrod Brown in Ohio and Mazie Hirono in Hawaii. Earlier they backed Elizabth Warren in Massachusetts and Chris Murphy in Connecticut. More to come, of course. "Tammy, Sherrod, and Mazie are some of the most passionate fighters for the 99% in Washington today," MoveOn's campaign director, Daniel Mintz, said in a statement. "If we send Sherrod back to the Senate this year, and elect Tammy and Mazie to join him, working families all across the country will be able to sleep easier, knowing they have leaders who are fighting for them—not for special interests—in our nation's capital."
3:50 AFTERNOON DELIGHTS Marco Rubio questions NPR funding [12] in lengthy interview—on NPR… Flap over Ann Romney interview [13] and her again saying no one deserves and know anything more about their finances… George "Macaca" Allen leads Tim Kaine by two points in Virginia in new Quinnipiac poll…
3:25 TWO POINT SHOT To attract sports fan voters, Obama should change language on raising taxes on rich —just say U.S. budget is "over the cap" so wealthy need to pay "luxury tax."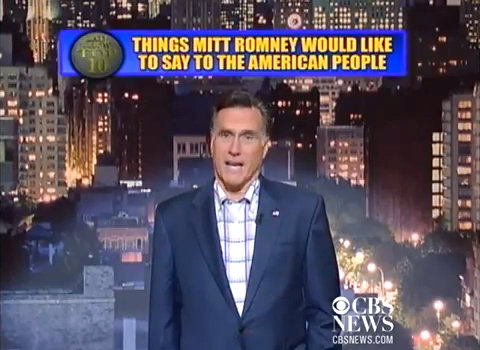 2:20 A TOP TEN FOR LETTERMAN? We read this list of Top Ten Things Mitt Might Be Hiding in His Tax Returns and assumed it was from the Letterman show last night, when actually it is at the somber Atlantic. Three highlights: "10) Safety deposit box in the Cayman Islands filled with space between America and Israel.… 4) In violation of SEC rules, privately invested in leading Michigan tree-trimming firm same week he was publicly touting how trees are just the right height there.… 1) Actually gets royalties every time America the Beautiful is performed."
2:10 BURYING (AND BORROWING) THE LEDE? My friend and Nation colleague Jon Wiener points out that not only did the LA Times "bury the lede" today in its big scoop on early Bain money—but that key section (on links to death squads in El Salvador) was reported by Justin Elliott, then of Salon, back in January [14]. I must say, I highlighted it (see below) myself.
12:45 GOING FOR THE SILVER While Chris Cillizza and other Beltway folks now pushing notion that race is truly tied—Chris even suggests naming Condi could put Romney over the top—Nate Silver of NYT says, chill. Just now points out: "Since 6/1, polls in 10 most important swing states (OH VA NV CO FL MI WI IA PA NH) have shown 39 Obama leads, 9 Romney leads, 4 ties." I've simply embraced idea that there would be no Obama surge from the Bain/tax revelations for now. But check new poll [15]: Most Americans think Romney should release tax returns—and most think they contain damaging info.
12:30 pm TWEET of the WEEK Governor Scott Walker with this beauty, referring to the Obama "build" meme: "Imagine if Noah needed help from the government to build the ark. It might have never been built." Charles P. Pierce at Esquire comments: "Hey, Wisconsin, you elected this goggle-eyed homunculus twice in a year. I have no words. Honestly."
11:00 am MOYERS HITS THOSE WHO WON'T DISCLOSE In a web-only video, and transcript, [16] Bill Moyers rips those who voted against the Disclose Act—because they want to hide who is "buying democracy…. The majority of Americans would never choose to be governed by the few at the expense of the many. Politicians required to play by the rules, to openly confess that their loyalty has been purchased and forced to identify the highest bidders, could not possibly survive the scrutiny. So they must bend the rules to conceal their transactions. In doing in democracy, their safety is in secrecy, and we must be kept in the dark"… And watch Colbert here [17] on Romney appealing to the Average Joes—while insulting them at confabs of the wealthy.
10:05 LEWIS BLACK GOES TO THE DOGS Trailer for new book by two NPR writers on Romney and his dog on the roof—with Lewis Black voicing Seamus.
9:25 TAXING THE IMAGINATION New poll results from NYT/CBS [18] confirm what one suspects: most voters want their taxes cut, but when give choice of cutting taxes or cutting services—police, fire, schools, libraries etc.—they always choose keeping services. So where do they think cuts should come from? It's a worthy exercise in any case because it may remind the vast number of people who normally don't even connect taxes with services they get.
MICHELLE LAUNCHES OBAMA GRASSOOTS DRIVE See brand new video below. It's called "It Takes One" with tagline "And It Starts With You."
SLY LIKE FOX NYT in new piece about Obama and Fox [19] downplays the latter's open bias but also reveals: "And while many of its commentators and on-air guests may be rooting for a Mitt Romney victory, privately Fox executives say that a second Obama term could be the best thing that ever happened to their network." More hate = more bucks…. Meanwhile, prime Fox favorite Karl Rove—who helped expose Valerie Plame, among other deeds— in WSJ column charges Obama with getting "down and dirty."
SCOOP ON BAIN AND THE MEN FROM PANAMA Big LA Times piece this morning [20]. "When Mitt Romney launched Bain Capital in 1984, he struggled at first to raise enough money for the untested venture. Old-money families like the Rothschilds turned down the young Boston [21] consultant. So he and his partners tapped an eclectic roster of investors, raising more than a third of their first $37 million investment fund from wealthy foreigners. Most of the foreign investors' money came through corporations registered in Panama [22], then known for tax advantages and unusual banking secrecy. Previously unreported details, documented in Massachusetts corporate filings and other public records, show that Bain Capital was enmeshed in the largely opaque world of international high finance from its very inception."
Then there's this: 'At the time, U.S. officials were publicly accusing some exiles in Miami of funding right-wing death squads in El Salvador. Some family members of the first Bain Capital investors were later linked to groups responsible for killings, though no evidence indicates those relatives invested in Bain or benefited from it."
THE VEEP BOOK CLUB Gail Colilns [23] on the Veepstake tomatoes—that is, she has actually read books by leading contenders Paul Ryan, Pawlenty and all the rest. We learn for example that Jindal "delivered one of his children himself on a bathroom floor." And Rob Portman co-authored a book about a Shaker community with "an interesting section on the Shakers' feelings about the danger of 'reckless bathing.' "
MYSTERY FINANCE THEATER Jon Stewart tackles the Romney tax return debate, contrasting with conservatives' sticking to the big issues: Obama's birth certificate and so on.
BLUES LIKE BROWN From today's Daily Kos morning newsletter: "The Ohio Fraternal Order of Police is the state's largest law enforcement union, with some 25,000 active and retired members. It also hasn't backed a Democrat for Senate since 1988. But thanks to the GOP assault on worker's rights, embodied by last year's successful fight to overturn the anti-collective bargaining law known as SB5, the OH FOP is endorsing Democratic Senator Sherrod Brown for re-election. The group's president praised Brown as "one of our strongest allies" in the battle against SB5."
THE BUFFETT RULE RULES Amazing finding in new [28] Quinnipiac poll: 48 percent of those making over $250,000 a year back higher taxes on those making…over $250,000 a year.
MORNING SHORTS Joining Bill Maher, Morgan Freeman donates $1 million to a pro-Obama Super PAC…. Yes, you can watch Snooki [29] telling New Gingrich on the Leno show that she's trying to be like him…or watch Debbie Wasserman Schultz claiming [30] John Sununu got "played" by the Tea Party into making those "gutter" comments about Obama (but since when did Sununu need to get played?)… McClatchy on members of Congress [31] not needing to release tax returns….Dems point to a single Senator [32] for killing DISCLOSE Act… Ezra Klein on the stronger candidate [33] Romney could/should have been…
From late Wednesday
FINALLY, ROMNEY MYSTERIES SOLVED Seamus takes the fall. Andy Borowitz: "BREAKING—Romney Claims Dog Ate Tax Returns and Ran Bain Capital for Three Years."
THE HORNY TOAD & THE STRIPPER Attack ad of the month—and there have been some wild ones in Prez race—has got to be this new one for the Lt. Gov. post in Missouri. Candidate, with great name Kinder, placed at a bar called the Horny Toad, and then there's some trouble with a stripper. You can't make this up, and maybe even the ad maker didn't. Meanwhile, MoveOn sticking with "Tricky Mitt" meme from its own ad today (see below) with this image. [34]
NO BOUNCE IN POLLS That Obama bump some predicted due to Romney's very bad Bain month—but which I discounted—seems illusory indeed, as new NYT/CBS poll [35] finds Romney for rare time leading, 47–46 percent. Means little except that—when added to other current polls—obviously, no surge. And Romney now leads 49-41 on best able to manage economy—suggesting that, as I warned, that weak jobs report this month, forgotten by many pundits and progressives, has more salience right now than the missing tax returns. Also, Obama's "favorable" index declines, though would hate to hazard a guess why.
PLAYING 'CHECKERS' WITH NIXON With the new "Tricky Mitt" attack ad gaining traction—and new calls for Romney to come clean on financial history—here's the classic Nixon "Checkers" speech from 1952, if you have somehow missed it (also has a part II). Love the way he stumbles over "integrity" at beginning. And then we get to the dog and Pat's "Republican cloth coat." (BTW, there are new print and ebook editons [2] for my Tricky Dick and the Pink Lady book.)
WOULD ROMNEY QUIT RATHER THAN RELEASE TAX RETURNS? Huff Post, adding to an earlier scoop, now cites Bain sources [36] who say Romney never dreamed he'd be forced to release tax returns, going back to his first run for office in 2002. They (or is it just Huff Post?) hint that he fears the release so much he might even consider dropping out of the race if poll numbers drop—that's how much he hates the idea. Maybe he invested in a strip club—or Solyndra.
OUR MISTER BROOKS Once again, there's an entertaining Gail Collins–David Brooks online-only chat [37] at the NYT. Barely taking a breath, David says Obama is acting like just as big an "idiot" as Romney, ignores key issues, and then he hails a "brilliant" Peggy Noonan column. Then he actually takes seriously Romney's attack on "crony capitalism." Then hails outsourcing. Quote of the Day from David: "The Whig Party represents my views better than any other political party ever has, so I would have been going door-to-door with little bumper stickers for people's horse-drawn buggies." Gail, who usually hits back hard and with humor, is pretty passive this time around.
GREEN POLITICS The Green Party's newly minted presidential candidate, Dr. Jill Stein, appears with Jennifer Granholm (the former governor) on her Current TV show tonight. Here's a piece [38] on seven things you may not know about her, including: she has female running mate, is already on twenty-four ballots, and expects to spend a paltry $1 million on the race, literally pocket change for the major party candidates. Also, unlike Obama, she has experience running against Romney!
ROMNEY's VEEP PICKED EXPOSED Our house comic, Andy Borowitz, just moved over to The New Yorker today, and first column [39] prints exclusive photo of Romney's Veep pick (left)—a true legend in the financial and real estate world. He brings added wealth to campaign spending but has political baggage that could prove problematic: "We're talking about someone who has gotten out of jail multiple times."