Live-blogging OWS daily since October 1. Email: epic1934@aol.com. All times ET. See my e-book on Occupy "40 Days That Shook the World." [1] My other books, including recent ones on Bradley Manning, Upton Sinclair, and Beethoven, here... [2].
11:15 Portrait of Atlanta family evicted at gun point after 18 years, living with 4 generations in house. "That old evil thing called greed...time to let it go."
10:15 Robert Reich on Democracy Now! [3]hails Occupy, says we have to keep making a "ruckus."
8:45 Noam Chomsky with new piece at Salon [4]: "The jobs aren't coming back." America doesn't make things anymore. Financiers just "manipulate" money and move it around and aground. "The fact that the Occupy movement is unprecedented is quite appropriate. After all, it's an unprecedented era and has been so since the 1970s, which marked a major turning point in American history.... For many people in the United States, there's a pervasive sense of hopelessness, sometimes despair. I think it's quite new in American history. And it has an objective basis."
8:40 OccupyTheFarm squatters [5] near Berkeley (see below) set terms for exiting land--for one thing, they must retain access.
8:25 Allison Kilkenny with latest on BOA shareholders protest in Charlotte [6] tomorrow, with city declaring it "extraordinary event," meaning "the city plans to restrict free speech and expand the ability of police and security forces to target and profile the homeowners, worker, community members, students, and immigrants who plan to demand justice from one of the largest banks in the country."
7:35 In advance of NATO summit protests [7]in Chicago later this month, the city is replacing enclosed trash cans down town with the wire-mesh variety--the better to see what might be planted inside.... Alternet: immigrants rights marches [8] did not get much attendance, or play, on May Day but did get support of OWS and the activists carry on.
7:25 Glenn Greenwald on one of our biggest cost (and ethical) drains: [9] the new national surveillance state, with its giant infrastructure and tens of thousands of employees (30,000 alone listening in on phone calls). Quotes normally mild-manner Fared Zakaria at length saying this war on terror will "never end" and shows how fearful and weak we appear.
7:20 .An island with 11,000 residents in the state of Washington has become "the darling of the Move Your Money campaign." [10]... An email from L.A.: "Occupy Fights Foreclosures, a subcommittee at Occupy Los Angeles, plans to fraudulently foreclose upon Bank of America in Pasadena the night before the bank's annual Shareholders' meeting. Activists say the shareholders need to know that Bank of America has been operating with fraud as their business model."... Occupy groups in Colorado to protest "fracking" [11] on Friday.
From late Monday
Michael Kinsley hits [12] NYT Sunday Mag cover story on guy who says U.S. needs MORE inequality. Would Zuckerberg have invented Facebook if he thought he'd only make, oh, 5 billion instead of 10 billion?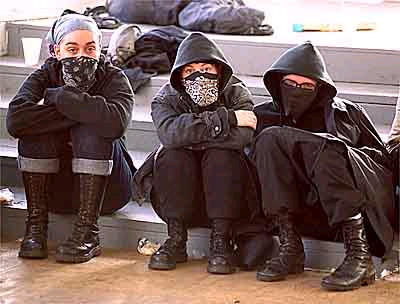 New SF Chronicle piece on Black Bloc and anarchists [13]being both "divisive" and "crucial" for Occupy (although they get IDed for lot of things they don't do). "Some protesters say Black Bloc violence and vandalism undercuts the core Occupy message of advocating for more economic equality. Supporters, however, say the Black Bloc has a different definition of violence, particularly in dealing with police - and that Black Bloc anarchists are a force for protection of other demonstrators and assertive expression."
OccupyCleveland continues to try to distance itself [14]from "bridge plotters" but now has to deal with name of one of them on lease for warehouse where a dozen live. Also, the 5 suspects have now pleaded not guility [15] in court, with (according to this account) about 50 OWSers showing up in support.
See my piece here at The Nation, following Socialist vote win in France: Could it happen here? What happened [16] when famed author Upton Sinclair nearly became governor of California
OccupyTheFarm [17] protestors refuse to leave UC-Berkeley land. "About 200 of the Occupy squatters broke into the 10-acre Gill Tract property on April 22 and set up camp. They planted carrot, broccoli and corn seedlings on part of the land to protest planned housing and commercial development nearby the site at Marin and San Pablo avenues."...