Live-blogging OWS daily since October 1. Email: epic1934@aol.com. All times ET. See my e-book on Occupy "40 Days That Shook the World." [1] My other books, including new ones on Bradley Manning and Beethoven, here... [2].
9:15 TV cameraman in Minneapolis filing criminal complaint [3]against cops after incident the other night (police chief already said handled badly).
6:30 Tom Morello's PSA for May 1 Strike.
6:00 From offiicial OWS feed: "Last night we successfully slept on Wall Street! Guess who's coming back tonight?!"
12:40 We linked below to Matt Taibbi's shredding of Obama's JOBs act, now here he is on Current's Eliot Spitzer show (yes, it exists), doing same.
12:25 David Weidner hits Anonymous [4], its influence on Occupy, wearing of masks, and general negative impact on gaining public supportl
11:15 The Atlantic site claims "economic fairness" issue [5]not helping Obama poll numbers. "Look at the people who have been the most unfairly treated by the economy -- those who are having trouble finding a job or worried about falling out of the middle class -- and they are leaning towards Republicans. Obama has trails Romney among voters in the poll who say jobs are hard to find in their area..."
10:20 Tim Pool's video [6] from 2 a.m. on 38 actually occupying Wall St. (sleeping over).... Just one example of a "99% Spring" training plan at the local local level, here in Iowa. [7]
9:50 Todd Gitlin's Occupy Nation book will be out as e-book [8] in three weeks, then in August as paperback.
9:00 At least a couple of dozen OWSers actually occupied Wall Street last night--sleeping out, claiming they were following law that allows such protest if you don't take up more than half the sidewalk. When I checked at 2 a.m. all was well. I'll try to catch up with the morning after now.
8:45 Chris Weigant at Huff Post [9]on Occupy's "Next Crossroads." He hits hostility to the 99% Spring: "This is, to a large extent, silly. Here's a quick question: is the Occupy movement inclusive or exclusive? As with all things Occupy, there is no one clear answer; it is both at the same time, in a way."
8:30 Folk protest group [10] forms in San Fran, called Occupella.
8:20 Matt Taibbi roasts Obama's JOBS act [11]. "Boy, do I feel like an idiot. I've been out there on radio and TV in the last few months saying that I thought there was a chance Barack Obama was listening to the popular anger against Wall Street that drove the Occupy movement, that decisions like putting a for-real law enforcement guy like New York AG Eric Schneiderman in charge of a mortgage fraud task force meant he was at least willing to pay lip service to public outrage against the banks. Then the JOBS Act happened [12]. The "Jumpstart Our Business Startups Act" (in addition to everything else, the Act has an annoying, redundant title) will very nearly legalize fraud in the stock market."
7:50 Chris Hedges rips debate [13] over Obama health plan, citing its many weaknesses. And: "There is no substantial difference between Obamacare and Romneycare. There is no substantial difference between Obama and Romney. They are abject servants of the corporate state. And if you vote for one you vote for the other."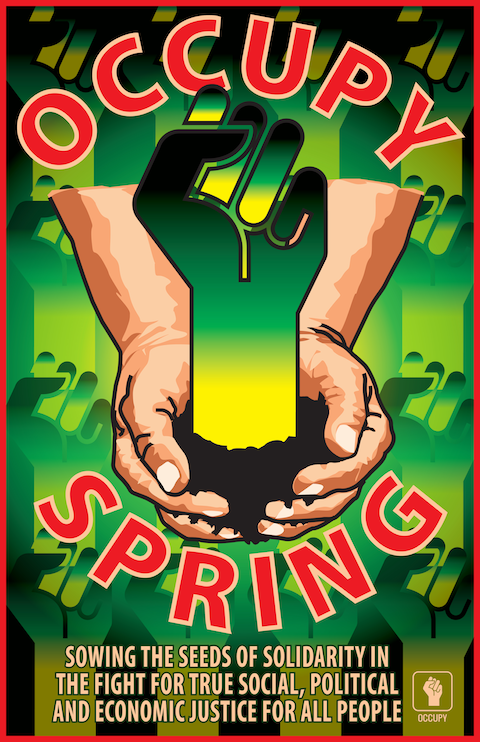 7:35 Even more fat for the fire, as Salon with new piece [14]on charges that MoveOn and the OccupySpring are "co-opting" OWS. "The fear, expressed by numerous Occupy participants I spoke to in different cities, is that the 99 Percent Spring trainings will steer energy away from Occupy spring actions and toward support for the Democrats this coming general election. Many still believe that MoveOn, as a recent CounterPunch article put it, is a "front for the Democratic Party." On the other hand, see video down the page, below.

From late Monday
Reuters: Occupy groups unite [15]--over foreclosures. 'Those who have watched the Occupy movement since its September beginnings say the foreclosure focus may help it recover from a slump that followed forced shutdowns of encampments in New York, Washington and other cities.'
Declaration adopted by OccupySF [16] which they say could be a model for others. "You have more power than you've been led to believe, and your voice is more needed than you think. These are the days when we must speak out, no matter how our voices shake."
Truthout: Update [17] on the (controversial) national Occupy gathering in Philly June 30-July 4, and more in that city. "The endorsement included a commitment by Occupy Philly to provide the resources necessary to make the first Occupy national gathering in history a resounding success. The stage was thus set for what could be a revolutionary event located at the historic birthplace of the First American Revolution."
Going mainstream: I reported earlier but now Liz Flock at Wash Post covers the OWS "take down" of Bank of America [18]on a super move your money day.... Minneapolis police chief admits he's not happy [19]about how cops treated local TV cameraman...