Live-blogging OWS daily since October 1. Email: epic1934@aol.com. All times ET. See my e-book on Occupy "40 Days That Shook the World." [1] My other books, including new one on Bradley Manning, here... [2].
4:50 I mentioned earlier but here's update on Occupy's comeback in Minneapolis [3]. More, no?
3:00 Combining three of my favorite things [4]: Occupy, Billy Bragg and Beethoven.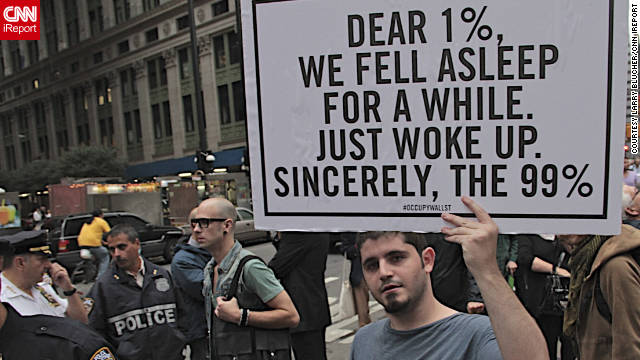 1:40 Ryan Devereaux at The Guardian with valuable compilation [5] of activists' views on where OWS goes from here--and need to "go further." Sandy Nurse: "It just feels like there's no space to assemble and to have political discourse. It just feels like every time we try to do that there's attempts to subvert it either through violence, taking it down, or more subtle tactics where actual surveillance and monitoring of people who are organizing very heavily."
1:30 NY Magazine on last night's OWS sleepover [6] outside banks in NYC (permitted under law, supposedly).
11:40 Allison Kilkenny: OWS responds [7] to ally/rival 99 Percent Spring. "Seizing on the popularity of Occupy Wall Street, a broad coalition of liberal-left groups and organizations created the 99 Percent Spring, a movement aiming to recruit and train 100,000 Americans to learn the ways of non-violent direct action. The initiative is led by MoveOn.org, and includes support from the AFL-CIO, Greenpeace, the Working Families Party, 350.org, Campaign for America's Future, United Students Against Sweatshops, CodePink, Global Exchange and Color of Change, among other groups.The plan has been heavily promoted by celebrities such as Edward Norton, Elijah Wood, Marisa Tomei and Jason Alexander and political heavyweights like Van Jones, founder of Rebuild the Dream.
"However, Occupy Wall Street protesters have expressed mixed feelings about the 99 Percent Spring, a response that should have been expected..."
10:20 25 events across Chicago [8] tomorrow...
10:00 Krugman on today's jobs report [9]: Yes, disappointing, and shows calls for no more stimulus and other tighening are "folly." Meanwhile, conservatives and GOPers cheer for fewer jobs as it hurts Obama--probably would cheer a full Depression.... See cover story on this site for this week's Nation but headline reflects more uncertainty than a few months back: "Elizabeth Warren: Yes She Can?"
9:45 I wait for this headline: "Chicken Sales Soar After Reports of Prozac Added."
9:30 Clean Coal group [10] now the latest to use/mock Occupy images in ads. "The coal lobby just kicked off a $40 million campaign to manipulate the election cycle....During the ad, an image of Occupy protesters flashes across the screen as the narrator states: 'It's time we focus on reality instead of rhetoric.'" See commercial here. [11]
9:10 Two Occupy camps in D.C. agree to possible "merger," [12]Wash Post reports--although from my reading, only one has. "The two downtown campsites have been advocating for similar economic causes in solidarity with the Occupy Wall Street movement but have often seemed at odds."
9:00 Report on "economic inequality" forum [13] at Berekely with Robert Reich, others...Mayor in Louisville [14] gives Occupyers one week to break downtown camp, where they've been for months...
8:30 Only 120,000 jobs added in March, new Labor Dept numbers shows, half of the February total, but good enough to drop jobless rate from 8.3% to 8.2%.
8:20 May I humbly suggest that my award-winning book [15]on Upton Sinclair's amazing 1934 race for governor of Calif--leading great end poverty movement--is tremendously relevant for Occupy today, not to mention U.S. media and politics and the 2012 campaign...
From late Thursday
Occupyers gather at Union Sq in NYC near midnight, planning to sleep outside local banks--citing no law against it. Police seem ready to ignore the no-law.
OccupyBoston continuing occupation [16] of statehouse steps for second day, growing out of the public transportation action yesterday. "At 'Camp Charlie,' Occupy the MBTA's occupation of the State House steps enters its second day. Meanwhile, the board of the MBTA still refuses to challenge the dominion of Wall Street banks over public finances.Last night, dozens of activists slept on the steps of the Massachusetts State House to protest the proposed service cuts, fare hikes, and layoffs."
Excerpt [17] from Van Jones book (mentioned below). Excerpt from the excerpt: "The time has come to turn things right side up again and declare that America's honest, hard-working middle class is too big to fail. The aspirations of our low-income, struggling, and marginalized communities are too big and important to fail. The hopes of our children are too big to fail. The American Dream itself is too big to fail.
"And we are not going to let these things fail."
Local weekly looks at OccupyTacoma [18] and asks: Where Are They Now? (Actually, still around despite end of camp.)
Editorial [19] here at The Nation: "A Budget to Re-build America." Hint: It's not Ryan's or Romney's (or Obama's)... Van Jones [20]: "I thought Occupy would be gone in 20 minutes." His new book dividing Occupyers--some see as quite valuable, others charges "co-opting."
See my new piece here [21] on today as 2nd anniversary of WikiLeaks rising to fame with release of "Collateral Murder" video from Iraq.
The Economist reviews a new book [22] by and for Occupyers...Interview with editor [23] of Occupy poetry anthology... Fellowship of Reconciliaition on OccupyFaith [24] gathering.
My new book on the Bradley Manning case [25], with my former Nation intern Kevin Gosztola, just out this month in print [26] as well as e-book. Titled "Truth and Consequences: The U.S. vs. Bradley Manning," it covers the saga right up to the court martial proceeding in recent months, right up to two weeks ago.