WELCOME TO DAYBOOK, our daily collection of media and politics hits/misses from a wide variety of sources plus fun videos and (at the bottom) a music pick. Return for updates during the day. Keep up with fresh items via @gregmitch [1] at Twitter. E-mail me at: epic1934@aol.com [2]. To increase type size, hit middle "A" above right.
TOPS FOR TUESDAY & AFTERNOON UPDATES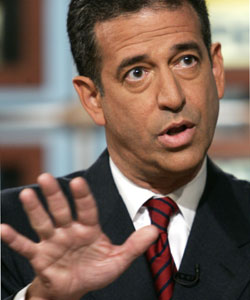 Politico editor visits Wisconsin, finds last four polls all show Sen. Russ Feingold trailing.... NYT starts to peel back layers [3] on some of the anonymous money flowing to outside groups on right.
When is this considered an epidemic? Oklahoma teen commits suicide [4] after "homophobic" meeting.
Peter Beinart: "Obama's War With the Pentagon [5]."
George Soros shocker [6]: He's "sitting out" this election cycle, claiming there's nothing he can do to stop GOP "avalanche."
My appearance below on GRIT TV today talking about my book "The Campaign of the Century: Upton SInclair's Race for Governor of California and the Birth of Media Politics." Dirtiest campaign ever, and one of the most influential.
Yes, this is one of the greatest corrections [7] ever in print or online: "This blog post originally stated that one in three black men who have sex with me is HIV positive. In fact, the statistic applies to black men who have sex with men."
Helen Thomas [8] on being called anti-Semitic: 'Baloney!' ... Ann Coulter defends [9] Carl Paladino's anti-gay comments. Also reveals, I AM a witch?
Outrage: Jon Meacham & Sally Quinn publish [10] gay-hating Tony Perkins at Wash Post--in "faith" section, no less.
TOO MUCH CONDI BAD FOR YOU? Warning: Condi Rice planning to strike tall New York buildings with...book promo. Will be on O'Reilly tonight, Daily Show tomorrow, much more. And it's not The Pet Goat. Remember: Bush memoir coming in three weeks.
RELIGIOUS RIGHT RIGHT? Andy Borowitz: Sarah Palin's Evolution [11] into Christine O'Donnell Proves Darwin Wrong.

AIDING "SPICOLI" DEMOCRATS Facebook co-founders make big donations [12] to pro-marijuana measure.
WHAT's UP, DOC? I highly recommend Charles Ferguson's acclaimed new documentary, Inside Job, on the financial meltdown and who caused it and why. Narrated by Matt Damon, it hits hard the bankers, their cronies, and non-regulators, plus Bush and Clinton and, in a strong finish, Obama for appointing some of those who caused the tragic mess—and failing to prosecute or control bonuses.
THE DAILY SHOWS Jon Stewart pokes fun [13] at MSNBC's "Lean Forward" ad campaign:...Eric Cantor visits Jon tonight... CNN sticking with [14] Parker-Spitzer—but got rid of newspapers on the table....
ON THE CAN-PAIN TRAIL GOP Senate candidate Ken Buck tells alleged rape victim [15] why he won't take her case Ari Berman & Karen Finney: Can Dems Regain Grassroots Support? GRIT TV segment [16].... Tea Pary's religious roots exposed [17].

BOTCHED RESCUE? British aid worker Linda Norgrove may have been killed [18]by US special forces in botched resue attempt.
BITS & PIECES More [19] from WSJ on threats to Web priavy: Latest on "scrapers".... Bob Herbert: [20] Mississippi Injustice—"So Utterly Inhumane"... Report: Huf Post spending $250,000 for buses to take people [21] to Jon Stewart rally—and 11,000 have signed up already.
TODAY's LAFF
Last week we brought you the now-classic "Glenn Beck Meets Donald Duck" mash-up which drew a strong response from Glenn himself. He called it some of greatest "propadanda" against him ever but also darkly suggested (with tongue in cheeck?) that such mash-ups may be funded by the federal government. Now someone has done a video of that response—and Mickey Mouse's reaction.
TODAY's MUSIC
One of my all-time favorites, Arcade Fire's "Internvention," cut to Eisenstein's Potemkin.