WELCOME TO DAYBOOK, our daily collection of media and politics hits/misses from a wide variety of sources plus fun videos and (at the bottom) a music pick. Return for updates during the day. Keep up with fresh items via @gregmitch [1] at Twitter. E-mail me at: epic1934@aol.com [2]. To increase type size hit middle "A" above right.
MONDAY MORNING WORKOUT -- PLUS AFTERNOON UPDATES

2 Afghans shot and killed [3] Sunday protesting Koran burning in USA..... "Non-combat" U.S. troops in another [4] shooting incident in Iraq, this time no one killed. Soldiers there object to [5] media depictions of end-of-combat..... L.A. Times: al-Qaeda surging again [6] in Iraq..... From Nick Turse [7] -- "Afghanistan on Life Support." ...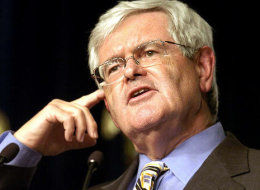 Newt Gingrich says Obama may follow [8]a "Kenyan, anti-colonial" worldview . Crucial context here [9] from Kevin Drum. UPDATE [10]: Press spokesman Robert Gibbs says it's just Newt's way of boosting the Birthers (or is that Birchers?) again.
New Jon Stewart profile [11] in New York mag. He says he watches mostly sports on TV so his head won't "explode" but "downstairs" staffers watch "every minute of Fox News."
You remember the concern expressed when it emerged that the son of NYT's Middle East bureau chief Ethan Bronner had joined the Israeli IDF? Many worried about biased reporting, or at least the appearance of same. Now we learn that the paper's longtime Gaza correspondent stopped working in June because of the dangerous position the Bonner move put her in. Must reading from Nieman Reports here. [12]
Shock poll: Tea Party candidate ahead of GOP shoo-in MIke Castle 47-44 for Delaware Senate contest (primary tomorrow), if she wins would give Dem candidate great chance at victory . Meanwhile, GOP chair in the state gets death threat [13]for failing to back Tea Party candidate...
A "tea-had" coming? NYT on Palin-Beck [14] ticket in 2012, or as one protester put it, "Lipstick and Dipstick." The Guardian separately saw signs of Palin, at least, running .... Albert Pujols hitting .200 since appearing at Glenn Beck rally, as Cards drop out of race.
My new piece [15]: The U.S. soldier who committed suicide after she refused to take part in torture.
'RACIST' PERETZ James Fallows: no other major mag has had editor say something like what Marty Peretz [16]said [16] (in this case, anti-Islam bigotry) w/o having to resign. Nick Kristof's great slam [17] at Peretz, and more, was most popular piece at NYT on Sunday.... Jon Chait defends Peretz, and Spencer Ackerman, who also worked at TNR, responds [18], Are you kidding me? Everyone there knows Marty is a racist. UPDATE: Peretz offers only partial apology, Kristof smacks him [19] again.
MORE ON MOSQUE & MUSLIMS Rick Hertzberg: Yes, move the mosque [20]--right to Ground Zero, not just near it. ... Newspaper apolgizes [21]for giving prominent coverage -- for end of Ramadan.
NOT DARK YET New Pew survey [22] finds, yes, public loves to get news online now but use of "old media" remains steady. One in ten of those under-30 [22] say they read NYT--online.
DON"T HOLD YOUR BREATH Eric Boehlert asks, Will Neil Cavuto have the decency [23] to apologize to the First Lady today?
OLIVER'S TWIST? Oliver Stone wonders [24] as new Wall Street about to open: Is greed still good? Good line: He has to be himself because "everyone else is taken."
THOMAS IN THE TANK ENGINE Clarence Thomas's wife rips "elites" at Tea Party rally in D.C. on Sunday --when her very sheltered husband is one of the most powerful figures in USA.
BITS & PIECES Another WIkiLeaks release [25] coming and it will be enormous.... Tom Morello [26] on New Orleans, music, tragedy and hope....The Guardian: that guy in Kentucky killed five [27] after got mad about way wife cooked his eggs. Having shotgun at hand helped.
TODAY's LAFF
Before we let pastor Terry Jones slink back into the muck and ooze after his 15 minutes of you-know-what, we wanted to make sure you caught the parody commercial that trumpeted the Koran bonfire that never got lit:
TODAY's MUSIC
Got to get to this before the month is half over: Green Day's "Wake Me Up When September Ends," live.