As many know, Bill Keller, executive editor of the New York Times, wrote a piece for his paper's Sunday magazine this past week (actually it's just an extract from their new book) critical of Julian Assange, even mocking him. WikiLeaks (presumably Assange) quickly called it a smear in a tweet and there was much made of the falling out between the paper, one of WikiLeaks' media partners since last June, and Assange. Yet today, on NPR, Keller gave credit to WikiLeaks for fueling the recent revolt in Tunisia (and by extension, Egypt).
So what sparked the rift with Assange?
For one thing, Assange was upset that the Times refused to link directly to the WikiLeaks site. Then there was a shaky profile last summer of Bradley Manning. But In this third excerpt from my new book The Age of WikiLeaks: From Collateral Murder to Cablegate, we look at the prime offense, as seen by Assange: the now fabled front-page story that appeared last October.
*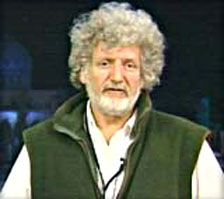 As it had promised, The New York Times, the day after the release of the megaleak on Iraq, published a lengthy profile of Assange on its front page, written by John Burns (left) and Ravi Somaiya, and including the interview with the WikiLeaks leader over lunch at an Ethiopian restaurant in London the previous week. During that sitdown, when asked about finances and other non-content issues, Assange had responded by calling such queries "facile," "cretinous," and from "kindergarten."
Even though the same newspaper had collaborated with WikiLeaks on its most recent two megaleak packages, and was still covering the latest one heavily, this profile was notable for its harsh tone and criticism of Assange, such as this:
— "Now it is not just governments that denounce him: some of his own comrades are abandoning him for what they see as erratic and imperious behavior, and a nearly delusional grandeur unmatched by an awareness that the digital secrets he reveals can have a price in flesh and blood."
— "Several WikiLeaks colleagues say he alone decided to release the Afghan documents without removing the names of Afghan intelligence sources for NATO troops. 'We were very, very upset with that, and with the way he spoke about it afterwards,' said Birgitta Jonsdottir, a core WikiLeaks volunteer and a member of Iceland's Parliament. 'If he could just focus on the important things he does, it would be better.' "
—"The New York Times spoke with dozens of people who have worked with and supported him in Iceland, Sweden, Germany, Britain and the United States. What emerged was a picture of the founder of WikiLeaks as its prime innovator and charismatic force but as someone whose growing celebrity has been matched by an increasingly dictatorial, eccentric and capricious style."
— "When Herbert Snorrason, a 25-year-old political activist in Iceland, questioned Mr. Assange's judgment over a number of issues in an online exchange last month, Mr. Assange was uncompromising. 'I don't like your tone,' he said, according to a transcript. 'If it continues, you're out.' "
Assange, at the Frontline Club in London, quickly responded to the piece this way: "It's a smear piece, and more tabloid behavior by the Times. Is it that only journalists with bad character work for the Times?" He said his objections to the Times's coverage included its "absolutely disgusting" profile of Bradley Manning back in August, which had "removed all higher-level political motivations from him and psychoanalyzed him down to problems in his childhood and a demand for attention. He later protested the tone of the new piece directly to Times editor Bill Keller and asked for a chance to respond in a significant way.