WELCOME TO DAYBOOK, our daily collection of media and politics hits/misses from a wide variety of sources plus fun videos and (and at the bottom) musical picks. Return for updates all day. Keep up with fresh items via @gregmitch at Twitter. E-mail me at: epic1934@aol.com. To increase type size hit the middle "A" above right.
AFTERNOON UPDATES
Democracy Now today on Afghanistan: Andrew Bacevich— "The president lacks the guts to get out." … Glenn Greenwald on something called Project Vigilant and the Bradley Manning / WikiLeaks case. Too hard to summarize, just go read it.
George Packer in The New Yorker on the "broken" U.S. Senate…. Thomas Frank dropping WSJ column for one with Harper's. .. Harman purchase of Newsweek happens. He is hubby of Rep. Jane Harman. Jon Meacham out as editor.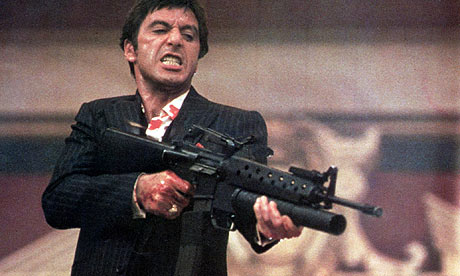 Fun Rep. Anthony Weiner / Al Pacino mash-up: You're out of order, you're out of order, the whole House is outta order: Good thing Weiner didn't have a gun.
McSweeney's: Freud takes a meeting on "Mad Men." Sometimes a pencil is just a pencil?
Now people can see what Glenn Beck University REALLY has to offer them with its first ad put together by The Full Ginsberg. "With classes such as Conspiracy Theory Theory, Revisionist History, and Cry-Ogenics, you too can learn everything Glenn Beck did when he didn't attend college."
The RNC has said that a "scheduling change" is why they have postponed a fundraiser with right-wing blogger Andrew Breitbat. But the announcement came the same day as Breitbat's "minority-based Tea Party event" in Philadelphia, which TPM reports did not have that many minorities in attendance.
Reuters: U.S. District Judge Henry Hudson refused to dismiss Virginia's lawsuit to President Barack Obama's landmark healthcare law. The judge is allowing the challenge–which argues that requiring residents to have health insurance is unconstitutional– to move forward.

— MONDAY, CAN'T TRUST THAT DAY
AP: With focus now on Afghanistan, high Iraqi death toll casts doubt on "stability" talk there: July death toll — 535 — was the highest since May 2008 when 563 died. Meanwhile, a benchmark of progress, the electrical grid, fails Iraqis. Shop owner in Baghdad: "Democracy didn't bring us anything. Democracy brought us a can of Coke and a beer." More bad news from L.A. Times here.

Newsweek's Jon Alter: Obama "would be making a terrible mistake" if he rejected the "fiercely independent" Elizabeth Warren. And here Warren professes: "My Mission Is to Restore America's Great Middle Class."