This site and others are rightly carrying a wide range of tributes to Gore Vidal, who passed away yesterday at the age of 86. Naturally, I've read a lot of Gore over the past decades (even, in my youth, Myra Breckenridge), but I've never met the man. One of my most indelible memories, however, goes back to August 1968, when I was in Chicago for the epic protest/police riot at the Democratic Convention. ABC had hired Vidal and William F. Buckley Jr. for mini-debates during primetime coverage of both party conventons, and I recall catching one of the infamous confrontations (they nearly came to blows) one night after returning from the streets.
Of course, Vidal was obsessed with electoral politics for much of the first half of his life. He even ran for high office twice, was the fifth cousin of Jimmy Carter and may have been related to Al Gore. Since my current blogging beat here remains Campaign 2012, let me stick to the electoral aspect of Vidalism in this space.
Born Eugene Louis Vidal, he took the middle name Gore in honor of his maternal grandfather Thomas Gore, a Democratic US senator from (of all places) Oklahoma. The young man was close to the Senator and was strongly influenced by his isolationist views.
Vidal began his writing career in 1948, and there's little need or space here to detail the essays, novels, and screenplays that soon followed. But his play, The Best Man, in 1960, would focus on a national convention pitting an ethical versus an unethical candidate. A story goes that Ronald Reagan tried out for a lead role in the road show but Vidal nixed him, feeling he could not credibly play a president. In any case, the play later became a movie, and has been revived often, including a current Broadway version.
Vidal would write many books and novels related to US presidents and those around them (including Lincoln and Burr), but let's stick to his own election campaigns here.
In 1960 he ran for Congress in a district along the Hudson River just north of where I now live, and received the active backing of everyone from Eleanor Roosevelt to Paul Newman. In her popular newspaper column, "My Day," Eleanor Roosevelt wrote as election day neared, "Incidentally electing good Congressmen like William FitzRyan and Bill Vanden Heuvel in New York, or Gore Vidal up in my neck of the woods is very important to our national picture. No President can afford not to have a substantial majority of his own party in Congress at the present time, for he always has to overcome some divisions which are almost inevitable within the party itself."
Part of Vidal's platform: higher taxes on the wealthy. His slogan: "You'll get more with Gore"—and wasn't that always the case? Few writers had ever run for high office. (I chronicled the saga of one of them, Upton Sinclair, in my book, The Campaign of the Century.) Unfortunately, it was a very red district, and he lost by a 14 percent margin, while getting more votes than any Democrat in five decades. He loved to point out, for the rest of his life, that he outpolled John F. Kennedy in that district. Needless to say, he had not yet come out as a gay man.
Three years later he wrote this piece for Esquire, before the JFK assassination, suggesting that Bobby Kennedy would face off with Nelson Rockefeller (remember GOP moderate-liberals?) for the White House in 1968.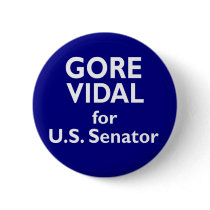 From about 1970 to 1972 he co-chaired the People's Party, an upstart liberal and antiwar third political party that I remember well, with Dr. Benjamin Spock, and wrote an article for Esquire proposing Ralph Nader as a candidate in 1972. He wrote in a mid-1970s piece, "There is only one party in the United States, the Property Party … and it has two right wings: Republican and Democrat. Republicans are a bit stupider, more rigid, more doctrinaire in their laissez-faire capitalism than the Democrats, who are cuter, prettier, a bit more corrupt—until recently…and more willing than the Republicans to make small adjustments when the poor, the black, the anti-imperialists get out of hand. But, essentially, there is no difference between the two parties."
Then, in 1982, he mounted a serious drive to gain the Democratic nomination for the open Senate seat in California. He would again doing relatively well—finishing second with 15 percent of the tally and more than 400,000 votes, while finishing far behind Governor Jerry Brown. (It's chronicled in a documentary titled, aptly, Vidal: The Man Who Said No.)
That was it for Gore running for office, though he was often mentioned or promoted as a candidate for one office or another. He told Charlie Rose that you simply can't be a writer and a candidate at the same time, given the need to lie almost constantly in the latter role. But a dream came true for him in the early 1990s when he finally became a US senator—in Tim Robbins's classic film Bob Roberts. Most of his lines were improvised, according to reports, no difficult feat for him in that particular role. He'd been training for it his entire life.
Vidal continued to comment on electoral politics right up to near the present day, from calling for impeachment of George W. Bush to backing Dennis Kucinich for president in a piece here at The Nation in 2007.
Enjoy this clip from Bob Roberts with Gore debating Tim Robbins: